Removal services
Move in with Bluespace!
A move is a change, not a problem. Leave your move in the hands of our professionals!
Bluespace has a network of storage centres, which allows us to offer a professional removal service in all Spanish cities. The coverage we have throughout the territory will save you unforeseen events and is a guarantee of security.
We offer a complete packing, transport and storage service at the best price. All our packing material is of high resistance and quality, reusable and sustainable.
Moving with Bluespace couldn't be simpler
Pack your belongings
Our professional team will take care of packing your items to protect them during transport or you can pack them yourself by buying the material in our shops.
We pick up your things
We come to your home/office to pick up your things with our professional removal team from Monday to Sunday. Don't worry about anything, leave it in our hands!
Storage
Do you need to store your belongings for a while? At Bluespace we have more than 60 storage centres where we can store your things for as long as you need.
Bluespace Removals by location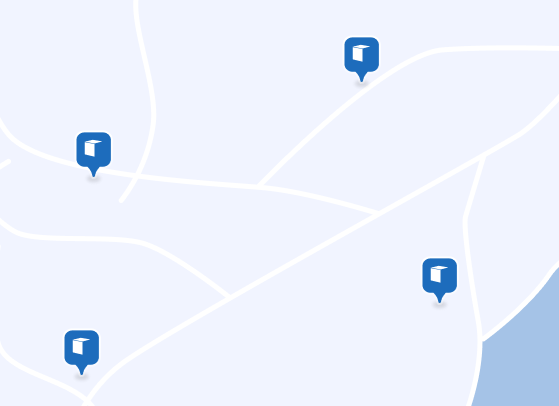 Find a removal service near you
Leaders in self-storage, operating in more than 60 cities.
SELF-ASSEMBLED AND REUSABLE BOXES
Get to know our Smart Blue boxes and order online now
Go to the store
Receive a no-obligation quote
Send us your inquiry and get a response in under 30 minutes.
Or call us free on 900 250 900
Removals services
National removal service
Bluespace offers a complete service in Spain's biggest cities (Barcelona, Bilbao, Madrid and Valencia). In addition, based in these cities we operate across Spain and other countries.
We do removals small and large. Our services are there for individuals or families who are thinking of moving, as well as companies or freelancers who are thinking of changing their office or company.
If you have any questions or would like more information, you can write to us via the web form, call us or visit any of our centres in person. Our team is happy to advise you to find the option best suited to your need.
Services offered by the Bluespace team
We can take care of almost everything for the transportation of your belongings. Above all we take care of:
Packaging. We pack and box everything you require. The boxes we use are self-assembled and high quality, making them very strong and ensuring all your belongings are safe. We offer maximum security.
Transportation. As mentioned above, we can pick up your belongings in Spain's biggest cities or elsewhere and transport them anywhere in the country. Thanks to our international service we can also deliver your belongings anywhere in the world.
Storage. If you purchase an additional storage service, we can temporarily store your belongings for as long as needed. Often, when you have to remove your belongings from your home or office, their new destination isn't ready yet. You need a warehouse to store them in the meantime. Bluespace can help!
In addition to all the above, we can also take care of the assembly and disassembly of furniture, store your furniture temporarily while you do renovation works at home, and we can also offer a fleet of vehicles adapted to each customer's needs.
We know how important it is that your belongings arrive at their destination safe and sound. That's why we have a team of highly qualified professionals who will handle all of your belongings with the utmost care and respect. The 15 years of experience we have in the sector are proof of our competence.
If you are thinking of moving or transferring objects from one place to another, do not hesitate to contact us. Our team of professionals will analyse your needs and draw up a tailored quote.
What are the advantages of renting a complementary storage service?
By renting a Bluespace storage room you will benefit from the many benefits the service has to offer.
Does your new apartment need some renovating? You can store your belongings with us for a time while you're moving. We can also arrange to transfer your belongings between our storage centres in Spain without the need for a new contract. We have Bluespace centres in the country's biggest cities storage rooms in Barcelona, storage rooms in Madrid, storage rooms in Bilbao and storage rooms in Valencia.
By renting a storage room, you gain space in your new home. Get rid of things you don't need and store them away from home with 24-hour access.
Frequently Asked Questions about removals with Bluespace
How much does a removal with Bluespace cost?

The cost of the Bluespace professional service depends on distance and how many belongings you have. Contact us for a no-obligation quote tailored to your needs.

Do you cover all of Spain?

Yes, the Bluespace service is present throughout Spain thanks to our network of more than 60 centres. Our network of storage centres means you can store your belongings in total security.

How long does it take to rent and start the service?

Once you approve our quote we can have our team ready anywhere in the country.

How is packaging used to protect my belongings?

The Bluespace team will professionally pack all your belongings. Our self-assembled boxes are a particular highlight. We can also store your belongings in our storage rooms temporarily if needed.

Can you help me with an international removal?

Yes, our service also covers other countries. We have many years of international experience.

How much does it cost to rent an additional storage room?

You can rent a Bluespace storage room as a complementary service. The storage contract is flexible and adapts to the amount of time you need. We have centres throughout the country (Madrid, Barcelona, Valencia and Bilbao).
Do you have questions?
Call us FREE from Monday to Friday from 9am to 8pm, Saturdays from 10am to 8pm and Sundays from 11am to 8pm
900 250 900
Or if you prefer we call you now
If you are already a customer, please call to
900 251 900